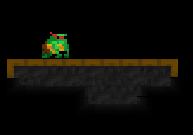 Splinter shell is a retro adventure game, currently playable as a demo, you play the game as the main character, splinter shell, You have been injured on a mission as a special agent, you have to complete each and every level of the game in order to learn how to use your body in the rehabilitation and training center and be a good agent once again.
If splinter shell is successfully funded, it will have a minimum of 40 in depth levels with a creative storyline fitting with the game design, similar to the current demo version of the game the full game will also feature, interchangeable character choices, more refined controls, code and smooth game-play, toggle-able modern or retro particle effects, better lighting and more. 
Backers of the game Receive special rewards too!
Splinter shell is currently playable right here as a 7 level demo game.
http://www.kongregate.com/games/Liquidcult/splinter-shell-turtle-training-demo